Shared Public Computer Solutions
Cybrarian.com™ shared public computer software for small libraries combines a simple setup system with a wide range of customizable options.
What is a Shared Public Computer?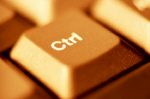 Shared public computers serve multiple patrons in libraries, schools, hotels, and Internet cafes.
People who share computers typically need a consistent computing environment. It's important to provide an unchanging interface at every logon. For users, changes in screen appearance can be confusing and difficult.
Shared computer users are also concerned about privacy: their personal information, from financial data to browsing habits, won't be available to the next person who uses the PC.
Shared Public Computer Management
Set limits on patron sessions, printing, Internet browsing, and all resources on shared public computers.
Cybrarian.com™ software secures all public computers for small libraries, government institutions, hotels, and Internet cafes:
Limit session times.
Manage printing costs.
Authenticate patrons with your ILS database system.
Monitor appropriate PC usage.
Shutdown PCs at the end of the day automatically.
Eliminate manual signup sheets.
Distribute shared public computer resources.
Provide a safe experience for patrons.